Skip to Content
Professional Cutting and Sawing in California
Hyperion provides professional cutting and sawing in California. We can break down large structures and debris and waste so it can be easily accessed or eliminated. Our company can handle large and small saw-cutting projects. We can cut, saw, and drill through heavy-duty materials such as walls, structures, and concrete slabs. We offer both residential and commercial saw-cutting services for construction, demolition, or removal. Our experts are trained to use state-of-the-art scanning and technology to identify sub-surface hazards. We have years of experience handling complex and hazardous cutting projects.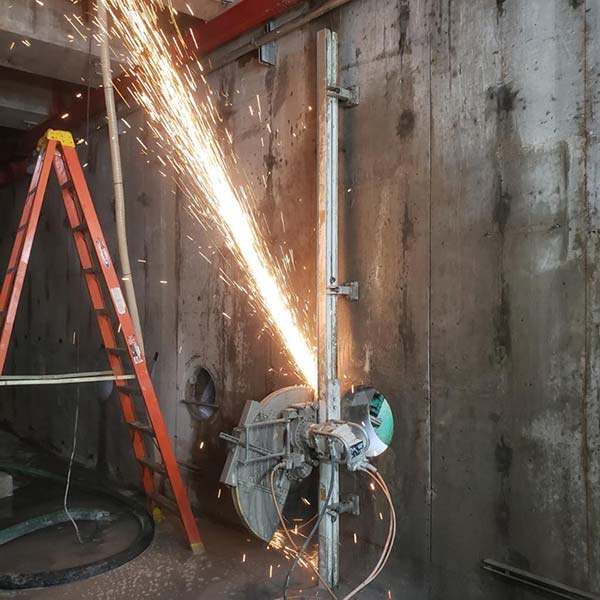 Powerful Concrete Slab Sawing Services
Slab sawing has many uses in both demolition and construction. We can break down large debris, saw slabs for new footings, or cut through walls to make room for new doors and windows. We handle wall and concrete cutting and utilize concrete X-rays for added safety. We can carry out core drilling for plumbing and electrical conduits and wire sawing for removing large footing, walls, and pylons. Our team of qualified experts conducts saw-cutting for bridges, highways, dock leveling, and pillar removal. Our saw-cutting services include the following:
Slab/flat sawing
Wall sawing
Hand sawing
Concrete coring
Asphalt cutting
Breaking, removal, and demolition
Concrete X-raying
Wire sawing
Equipped With Cutting-Edge Sawing Technology
We carry the best concrete equipment for increased productivity and efficiency. We offer ultimate cost savings for both small services and large-scale ventures. Our highly-trained experts minimize risk by utilizing state-of-the-art X-ray equipment to carry out dangerous work. All our saw trucks come equipped with a concrete scanning machine to ensure every project remains free of all incidents. The X-ray reveals what's inside or behind walls and concrete slabs to help protect everyone involved in demolition. We prioritize human safety and use only the best practices to ensure safe project handling. Our team has the experience and equipment to ensure safe, cost-effective results.