Skip to Content
Safe and Professional Demolition in California
Hyperion provides commercial and residential demolition services in California. We can handle anything from complicated commercial jobs to small residential projects. We specialize in safe and efficient demolition and removal. We can safely demolish any residential, commercial, or industrial structure. Our heavy-duty equipment can reach almost 200 feet and is fortified with advanced technology. We can execute all aspects of demolition and safely accomplish even the most complex projects on a tight time schedule. Our demolition services include abatement, saw cutting, recycling, loading, hauling, site clearing, and disposal of debris. We also offer large saw-cutting services for any of your concrete or core drilling needs.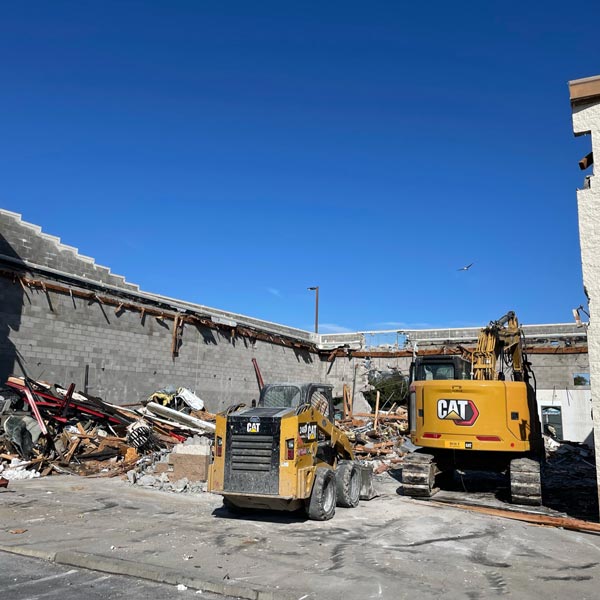 Large Plant Decommissioning
Our experienced team of demolition experts can clear any site of trees, asphalt, or walkways. We can demolish large plants in preparation for renovations and development. We will grind roads and chip trees safely and efficiently. Our employees can clear sites of any size with efficient brush loading, hauling, and disposal of materials. We will process debris and waste regardless of the size or scope of the demolition project. We take care of proper cleanup as part of our demolition work, so there's no mess left over. Our experts handle everything from equipment and large facility removal to plant demolition. We perform the following safe and effective demolition tasks:
Bridge demolition
Disaster cleanup
Full house & site demo
Full site and structure demolition
Full structure demolition
Interior guts for new build-outs
Plant decommission
Selective demolition
Guaranteed Quality, Productivity, and Security
We provide safe and effective demolition services, whether you have a large-scale project or a simple project. Our professional team meets tight schedules without sacrificing security. We use specialized equipment and technology to execute demolition jobs with engineered pre-planning and extreme precision. We prioritize environmental issues, public safety, and health risks to ensure the safety of everyone involved. Our employees will manage any demolition project from start to finish. We handle everything from the demolition permits, asbestos inspection, utility disconnections, and complete cleanup and grading of the lot. When we're finished, you'll be left with clean, flat ground.